Setup of Cloud Management Gateway
This is an old video I made for a presentation I held together with Alessandro Cesarini at the Microsoft Ready conference. It's speeded up a bit so pay attention! ?
So, did you figure out what went wrong during the first 'Connection Analyzer' test?
If not, it was due to the lack of a CNAME entry in DNS since I used a public certificate for my CMG service.

I also created a drawing that might be helpful to remember/understand what you need to get it to work. The client certificate is only needed for non-Windows 10 devices that are not either AAD/Hybrid joined.
Another pro tip is if something goes wrong with one of your apps and you need to delete them or one of them… Oh yeah, there's no way to do that from the console! Luckily, we can do it from SQL. But hush, don't tell anyone.

CMG components: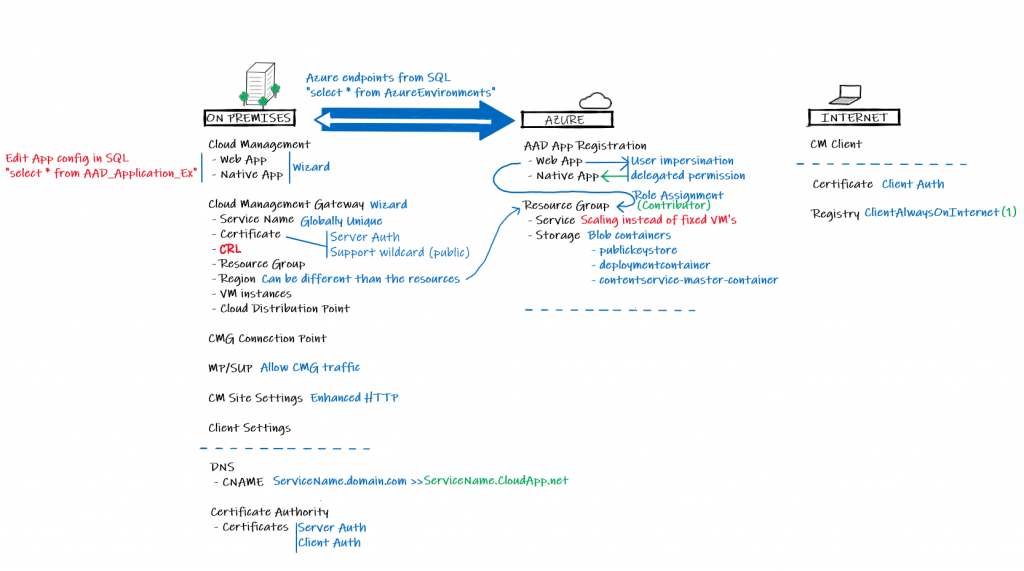 For further details I would recommend the official documentation docs.microsoft.com
Disclaimer:
The sample scripts are not supported under any Microsoft standard support program or service. The sample scripts are provided AS IS without warranty of any kind. Microsoft further disclaims all implied warranties including, without limitation, any implied warranties of merchantability or of fitness for a particular purpose. The entire risk arising out of the use or performance of the sample scripts and documentation remains with you. In no event shall Microsoft, its authors, or anyone else involved in the creation, production, or delivery of the scripts be liable for any damages whatsoever (including, without limitation, damages for loss of business profits, business interruption, loss of business information, or other pecuniary loss) arising out of the use of or inability to use the sample scripts or documentation, even if Microsoft has been advised of the possibility of such damages.